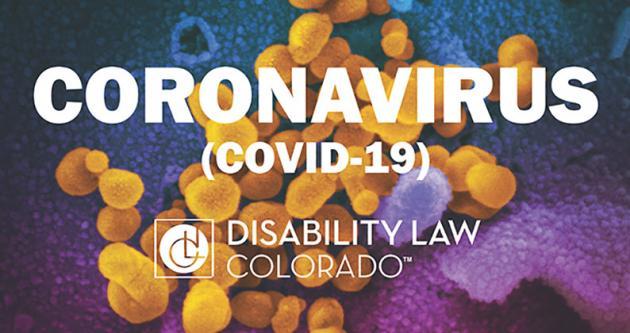 Disability Law Colorado's Response to the COVID-19 Pandemic
Helpful COVID-19 Resources from Trusted Sources Below Response Statement.
CLICK HERE for Disability Law Colorado's KNOW YOUR RIGHTS DURING COVID-19 Resource Page
CLICK HERE for Our COVID & Educational Rights Resources for Parents Fact Sheet
CLICK HERE for Parent Log for Services During Extended COVID19 School Closures
CLICK HERE to Take DLC's Facilities Survey from COVID19 Impact
CLICK HERE for SNAP Benefits Fact Sheet
CLICK HERE for Medicaid & Due Process During COVID19 Resource Information
CLICK HERE for a Link to Medicaid Waiver & Provider Information During COVID19
CLICK HERE for a Link to Administration for Community Living (ACL) Information During COVID19
COVID-19 Response Statement Posted March 16, 2020 | These are changing and challenging times.  In response to concerns about the COVID-19 pandemic, Disability Law Colorado wants to remind people that we are Colorado's arm of a nationwide network of Protection & Advocacy Systems that were created by federal law to protect and promote the rights of people with disabilities. We also administrate Colorado's State Long-Term Care Ombudsman and Legal Assistance Developer for Elders programs.  Our role does not end, and is likely heightened, when our state faces a public health crisis on the magnitude of COVID-19.  We will remain open for business to ensure that people with disabilities of all ages are not facing abuse and neglect as a result of this crisis.
However, we recognize and appreciate that we must also be cognizant of the health and safety of our staff and partners in the community.  To that end, both our Denver and Grand Junction offices will be closed beginning March 16, 2020 to outside visitors indefinitely.  We will conduct business by phone and video, both from our office and remotely.  Please understand that we may return calls from blocked numbers, as staff may be working from home.  Though we may visit facilities serving people with disabilities on an as-needed basis, we will not be attending meetings or events outside the office.
Please call us for information or assistance and particularly if you or someone else with a disability is facing abuse, neglect or a serious rights violation.  We are here to assist in this difficult time.
Helpful COVID-19 Resources from Trusted Sources
CDC What You Need to Know About COVID-19
CDC What to Do if You Are Sick with COVID-19
Lo que necesita saber sobre la enfermedad del coronavirus 2019
Detenga la propagación de los microbios
Qué hacer si se contrae la enfermedad del coronavirus 2019 (COVID-19)
Plain Language Booklet on Coronavirus 19
Spanish Plain Language Booklet on Coronavirus 19
Q & A — Fact & Fiction
All information in this section is either from the CDC, WHO, or John's Hopkins School of Medicine.
Can coronavirus live on food and objects? 
YES and NO. Coronaviruses are generally thought to be spread from person-to-person through respiratory droplets. Currently, there is no evidence to support transmission of COVID-19 associated with food. Before preparing or eating food it is important to always wash your hands with soap and water for 20 seconds for general food safety. Throughout the day wash your hands after blowing your nose, coughing or sneezing, or going to the bathroom. It may be possible that a person can get COVID-19 by touching a surface or object that has the virus on it and then touching their own mouth, nose, or possibly their eyes, but this is not thought to be the main way the virus spreads. In general, because of poor survivability of these coronaviruses on surfaces, there is likely very low risk of spread from food products or packaging that are shipped over a period of days or weeks at ambient, refrigerated, or frozen temperatures.
Are Chinese or other Asian Americans more likely to spread the virus?
NO. It is important to remember that people – including those of Asian descent – who do not live in or have not recently been in an area of ongoing spread of the virus that causes COVID-19 or have not been in contact with a person who is a confirmed or suspected case of COVID-19 are not at greater risk of spreading COVID-19 than other Americans.
Should I wear a mask to protect myself?
YES. The CDC and State of Colorado strongly encourages everyone to wear a mask to cover your mouth and nose to help stop the spread of COVID19. 
Will warmer weather stop the outbreak of Covid-19? Will the cold weather?
Several countries currently affected by the new coronavirus outbreak are experiencing summer weather. Some viral illnesses, like the flu, seem to be less common in warmer months, but it is still possible to catch them during that time. Investigations are exploring the effects of temperature and weather on the spread of this new coronavirus. There is no reason to believe that cold weather can kill the new coronavirus or other diseases. The normal human body temperature remains around 97.7°F to 98.6°F, regardless of the external temperature or weather. The most effective way to protect yourself against the new coronavirus is by frequently cleaning your hands with alcohol-based hand rub or washing them with soap and water.
Resources
Social Security & Coronavirus — Stay updated about what SSA is doing during the COVID-19 pandemic by continuing to check their web page for updates. There is also an option to subscribe and receive alerts from them when they add or change information.
Denver Emergency Food Access – Published by the Denver Public Health and Environment, this page has information about School and Student Meals, Denver Parks and Recreation Center Meals (Tasty Food), SNAP & WIC Benefits in Denver, Food Assistance at Pantries, and Food in Quarantine.
Listing of Denver Food Pantries – including location, hours of operation, and services provided.
Hunger Free Colorado – Food assistance information for the state,  not just Denver Metro. The site is updated regularly. The Food Resource Hotline is (855-855-4626), M – F (8 am – 4:30 pm).
Protecting your finances during the Coronavirus Pandemic – Federal, state, and local governments are working to respond to the growing public health threat of coronavirus, or COVID-19. The CFPB and other financial regulators have encouraged financial institutions to work with their customers to meet their community needs. Additionally, the CFPB is committed to providing consumers with up-to-date information and resources to protect and manage their finances during this difficult time as the situation evolves.
Internet Essentials: Affordable Internet at Home for Eligible Households – With social distancing comes isolation. For those without a computer or internet access, staying home presents risk of isolation, loneliness, and depression. Internet Essentials offers two months free internet with low costs after, and the option to purchase a laptop or desktop computer at a discounted price.
Helpful Information
Centers for Disease Control and Prevention (CDC) Coronavirus (COVID-19) Information: https://www.cdc.gov/coronavirus/2019-nCoV/index.html
Colorado's COVID-19 Page: https://covid19.colorado.gov/
Colorado HCPF Updates: Please visit this page to see guidance from The Department of Health Care, Policy, and Financing about COVID-19 – https://www.colorado.gov/hcpf/covid
Colorado Unemployment & Other Benefits: Closures due to COVID-19 can create a financial burden due to loss or reduction of employment. 
Visit the Colorado Department of Labor to explore options if your employer is closing or your hours are being reduced due to COVID-19: https://www.colorado.gov/pacific/cdle/information-and-resources-coronavirus
Housing and Shelter Resources: https://www.211colorado.org/housing-and-shelter/
What to do while schools are closed: The Colorado Department of Public Health and Environment has provided guidance here for parents of school-aged children during school closures:
https://docs.google.com/document/d/e/2PACX-1vR3k5M_b5qlWErKhPcpntllypqhu...
Guidance for Children in Early Intervention: http://coloradoofficeofearlychildhood.force.com/eicolorado/EI_QuickLinks...
Food Banks, Food/Grocery Delivery, School District Food Distribution:
Instacart (available in the app store)
Amazon Prime Fresh: https://www.amazon.com/alm/storefront?almBrandId=QW1hem9uIEZyZXNo
Farm Crest Milk Delivery: https://www.royalcrestdairy.com/covid-19-official-statement/
GrubHub Food Delivery (available in the app store)
Postmates Food Delivery (available in the app store)
Food Banks: Reach out to your local Arc to find nearby food banks.
School district provided food: Reach out to your local Arc for information about school district provided food for children up to 18 years of age.
Stores Offering Special Shopping Hours for At-Risk Individuals:
We have been told the following stores are offering special shopping hours for at-risk individuals in an attempt to slow the spread of COVID-19.  Please work with your doctor if you or someone you care for is in the at-risk population for COVID-19 to determine the safest way to procedure needed food and supplies.  Additionally, we encourage calling and verifying the available hours and procedures, as stores could still be crowded during these hours:
Albertsons: https://www.albertsonscompanies.com/newsroom/shopping-hours-for-vulnerab...
Dollar General: https://newscenter.dollargeneral.com/news/dollar-general-announces-first...
Target: https://corporate.target.com/about/purpose-history/our-commitments/targe...
Whole Foods: https://media.wholefoodsmarket.com/news/whole-foods-market-adjusts-store...
Rent Assistance/TRUA: https://www.nedenverhousing.org/news-events/temporary-rental-utility-ass...
Energy Assistance – Colorado Low-income Energy Assistance Program (LEAP): https://www.colorado.gov/pacific/cdhs/leap
Top Information
Love in the Time of Corona — A MESSAGE FROM KEVIN JOHN FONG | Pandemics are powerful phenomena. One moment, life proceeds per usual routines, and the next, we find ourselves scrambling over toilet paper. The Coronavirus (COVID-19) has impacted our lives in every way and preventing transmission, while far from assured, appears to be straightforward. An equally daunting challenge, however, is about how we are going to interact with one another as this crisis unfolds. 
Social Distancing: This is Not a Snow Day | "We have a preemptive opportunity to save lives through the actions we take right now that we will not have in a few weeks. It is a public health imperative. It is also our responsibility as a community to act while we still have a choice and while our actions can have the greatest impact." From an article written by Asaf Bitton, MD, MPH, the executive director of Ariadne Labs in Boston, MA.
Census 2020 & COVID-19 | There are three ways to respond to the 2020 Census from the comfort of your own home – online, by phone or by returning the paper questionnaire.