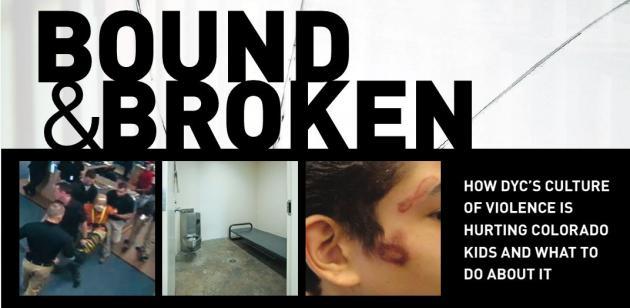 For Immediate Release
March 2, 2017                                    
Media Contacts: 
John Krieger, ACLU of Colorado 
303.653.6246
DYC's Punitive Culture is Hurting Colorado Kids, and Making Kids and Staff Unsafe, Investigation Finds
Coalition calls for a new approach based on highly-successful Missouri model 
Denver, CO – Violence in Colorado's Division of Youth Corrections (DYC) facilities has risen dramatically in recent years, and the common use of punitive measures, including pain compliance, knee strikes, solitary confinement, and a full-body straitjacket called the WRAP have created a culture of violence that is failing Colorado's troubled youth, according to a new report released today by the Colorado Child Safety Coalition. 
Bound and Broken: How DYC's Culture of Violence is Hurting Colorado's Kids and What to Do About It includes new findings, photos, case studies, and policy recommendations, including a call for a pilot program in DYC based on the Missouri Approach, a highly-successful model used by several states that has resulted in safer facilities with far fewer assaults against both staff and youth, while maintaining low recidivism rates and high educational outcomes. 
Along with the report, the Coalition released a short video (fully accessible version) featuring an interview with Xavier Long, a former DYC resident who has significant mental health needs and, rather than being provided the treatment he desperately needed at DYC, was exposed to violence.  The video contains the first ever publicly released video of a child in the WRAP in DYC.
"Kids incarcerated in Colorado are in crisis. Staff members strike, isolate, and bind children, making DYC facilities unsafe spaces for both staff and youth.  For the sake of Colorado's kids and staff, it is time to transform DYC's punitive and broken culture into one of rehabilitation and hope," said ACLU of Colorado Staff Attorney Rebecca T. Wallace. "There is a clear path forward. The Missouri Approach, the gold standard in providing rehabilitative treatment to incarcerated youth, treats kids like kids. Without force, isolation, or full body restraints, this approach is proven to keep kids and staff safer, while maintaining low recidivism rates and high educational outcomes.  We are calling on DYC and our state legislators to embrace the Missouri Approach, starting with a pilot program to begin this year.  Colorado's kids can wait no longer."      
The Coalition, which includes the ACLU of Colorado, Disability Law Colorado, the Office of the Colorado State Public Defender, and the Colorado Juvenile Defender Center, interviewed 21 children from 11 of DYC's 13 state owned facilities and reviewed more than 1,000 internal DYC documents and multiple videos. The report concludes that, despite DYC's mission of rehabilitation rather than punishment, the culture of DYC is plagued by punitive practices that cause physical and emotional harm to the young people in its care and deter rehabilitation. 
In 2016 alone, DYC staff placed youth in solitary confinement 2240 times and used physical restraints more than 3600 times, with over sixty percent of those incidents resulting in the use of mechanical restraints, including handcuffs, leg irons, shackles and/or the WRAP.  Physical punishment methods, including pain compliance and targeted strikes with staff's knees to sensitive parts of youths' bodies, caused multiple injuries to young people, including bruises, scratches, rug burns, separated joints, and closed head injuries, according to the report.  The United States Department of Justice has determined pain compliance techniques violate children's constitutional rights. 
"Isolation and physical punishment don't help at-risk young people turn their lives around," said Ann Roan, State Training Director for Juvenile Defense and Complex Litigation at the Office of the Colorado State Public Defender.  "If we are serious about investing in Colorado's troubled kids, changing DYC's punitive culture is a must."
Colorado is one of the few juvenile justice systems in the country that uses the WRAP, a full body restraint device that is akin to a straitjacket. In 2016, DYC placed young people in the WRAP at least 253 times. The WRAP was outlawed in Arkansas after the Ombudsman called the device "torture" when used on youth. The report contains the first ever publicly released photo of a child in the WRAP in DYC.
"Despite assurances from top DYC officials that the Division was moving away from the use of pain compliance, isolation and the WRAP, we learned that these punitive practices are still commonly used," said Mark Ivandick, Managing Attorney of Disability Law Colorado.  "Young people with mental illness and other disabilities are overrepresented in DYC and are disproportionately experiencing these atrocities.  This must stop.  Action must be taken to ensure that DYC's culture matches its rhetoric of providing trauma-informed, rehabilitative care.  We urge the state legislature to create real change and foster a therapeutic environment by implementing the Missouri Approach."
Based on the model pioneered by the Missouri Division of Youth Services, the Missouri Approach offers staff better, non-punitive tools to respond to the needs of young people in their care.  Missouri data show that its youth corrections staff is 13 times less likely to be assaulted compared to other states and incarcerated youth in Missouri are 4.5 times less likely to be assaulted and 200 times less likely to be placed in solitary confinement.  As one Missouri youth said to DYC leadership and a member of the Colorado Child Safety Coalition during a recent Missouri Division of Youth Services tour: "The kids in Colorado deserve as good as the kids in Missouri."
Resources: 
Read the Colorado Child Safety Coalition Report: Bound and Broken: How DYC's Culture of Violence is Hurting Colorado's Kids and What to Do About It
Watch Bound and Broken: Exposing the culture of violence within the Colorado Division of Youth Corrections: https://youtu.be/55fScl3jXdA
Fully accessible version: https://www.youtube.com/watch?v=fai-KmgLTV8&feature=youtu.be
###