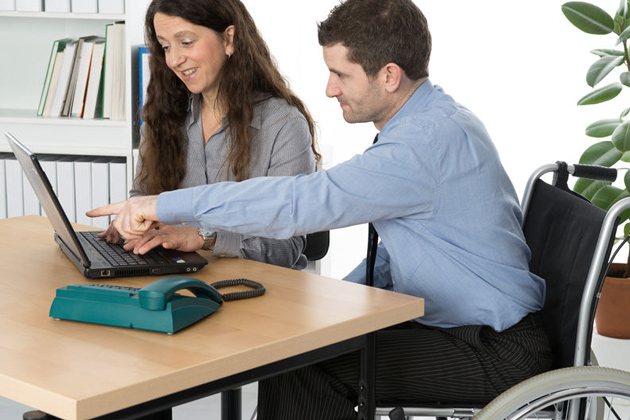 People with disabilities want to work like everyone else. Having a job is key to independence and self-determination. 
Americans with Disabilities Act
The Americans with Disabilities Act (ADA) prohibits discrimination in the workplace against people with disabilities and guarantees them equal opportunities.
Title I, enforced by the U.S. Equal Employment Opportunity Commission (EEOC), prohibits employers from discriminating against people with disabilities in all employment-related activities, including hiring, pay, benefits, firing and promotions.
Title II, enforced by the U.S. Department of Justice (DOJ), protects people with disabilities from discrimination in state and local government services, programs and activities.
Colorado Anti-Discrimination Act
Prohibits discrimination in employment, housing, and public accommodations.
Rehabilitation Act
The Rehabilitation Act funds various disability-related purposes and activities, including state vocational rehabilitation programs. The Division of Vocational Rehabilitation helps people with disabilities when the disability is a barrier to employment and the individual can benefit from rehabilitation services. 
Workplace Discrimination
Disability Law Colorado supports the right of people with disabilities to work and support themselves and their families. We intervene in cases of workplace discrimination and we help people access vocational rehabilitation services.
Our Employment-Related Programs
We have several programs that can assist people with employment-related issues, including:
Client Assistance Program - this program helps people access services from the Colorado Division of Vocational Rehabilitation.
Assistive Technology - helps ensure people have the devices they need to perform on the job.
Individual Rights - protects the legal and human rights of people with disabilities, including the right to be free from discrimination in the workplace.
If you would like to discuss a potential case of workplace discrimination or learn more about job rehabilitation, please contact us.