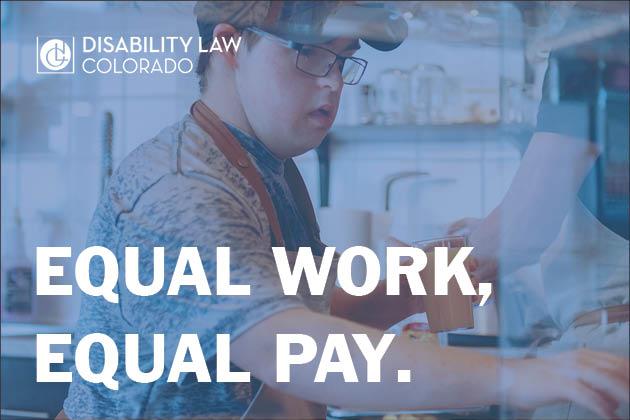 FOR IMMEDIATE RELEASE
Date: Tuesday October 31, 2023
Contact: Office of Government, Policy and Public Relations - cdle_pr@state.co.us
Polis-Primavera Administration Eliminates Subminimum Wages for People with Disabilities Two Years Ahead of Schedule
DENVER - Today, Lieutenant Governor Dianne Primavera, and the Colorado Departments of Labor and Employment (CDLE) and Health Care Policy and Financing (HCPF) announced that as of July 2023, no Colorado companies can pay people less than minimum wage because they have a disability. This is thanks to the bipartisan SB21-039 Elimination of Subminimum Wage Employment, which required an end to this practice by July 2025. 
This bipartisan legislation, signed by Governor Polis on June 29, 2021, and sponsored by Senators Rachel Zenzinger and Dennis Hisey and Representatives Yadira Caraveo and Rod Pelton, prohibits an employer from paying an employee less than minimum wage due to age, physical or mental disability, or injury. The bipartisan law also required HCPF to enhance Medicaid employment-related services to members with Intellectual and Developmental Disabilities (IDD) and to expand eligibility for the Medicaid Buy-in for Working Adults program to all adults with disabilities so their higher earnings will not make them ineligible for the Medicaid services they need. 
This announcement, two years ahead of the legislated timeline, marks an era of new opportunity for Coloradans with disabilities. CDLE, HCPF, and the Polis-Primavera Administration are committed to building a Colorado for All, driven by a diverse workforce that provides all Coloradans the opportunity to thrive. The Polis-Primavera Administration is proud to sign and implement legislation that dismantles outdated practices and reduces or eliminates barriers so that individuals can succeed in the workforce. 
"I am proud of our administration's commitment to cultivate a Colorado for all where everyone has the opportunity to thrive," said Lt. Governor Dianne Primavera.  "Employees with disabilities should be treated fairly for their labor and receive equal pay for equal work."
"This is exciting news," said CDLE's Division of Vocational Rehabilitation Director, Kristin Corash.  "All Coloradans with disabilities who want to work can now expect to work at real jobs for real pay, regardless of the type or severity of their disability and have the opportunity to prosper." 
"All individuals should have the opportunity to receive appropriate pay for appropriate work," said Bonnie SiIva, Director for the Office of Community Living within HCPF. "We have added workplace assistance and benefits counseling into two of our waiver services which further sets our members up for success and are very excited to be leading the nation in getting this done." 
Governor Polis and Lt. Governor Primavera in partnership with the legislature have taken a number of actions to improve opportunities for Coloradans with disabilities, including: 
March 7, 2019 - Governor Polis signed HB19-1066: Counting Special Education In Graduation Rates, which ensured students enrolled in special education services are counted in the school, district, and state graduation rates.
July 06, 2020 - Governor Polis signed SB20-033: Allow Medicaid Buy-in Program After Age 65, to give certain ineligible working adults with disabilities access to the Medicaid buy-in program so they do not need to live in poverty to receive Medicaid, including long-term services and support. 
June 30, 2021 - Governor Polis signed SB21-095: Sunset Employment First Advisory Partnership, which continued the Employment First Advisory Partnership and created a disability hiring incentive pilot program at CDLE. 
April 21, 2022 - Governor Polis signed HB22-1255: Improve Higher Education For Students With A Disability, which created a committee to make recommendations on best practices and necessary services to improve outcomes for students with a disability. 
May 15, 2023 - Governor Polis signed SB23-099: Special Education Funding, which increased educational funding by over $40 million for children who have one or more disabilities and who receive special education services.
Are you a person with a disability, or do you know someone who is? There are many resources available to find and keep employment and the Division of Vocational Rehabilitation is a great place to start.  If you receive disability benefits and are wondering if you can still work, you can! Colorado has a robust benefits planning system and resources to support you.  
###