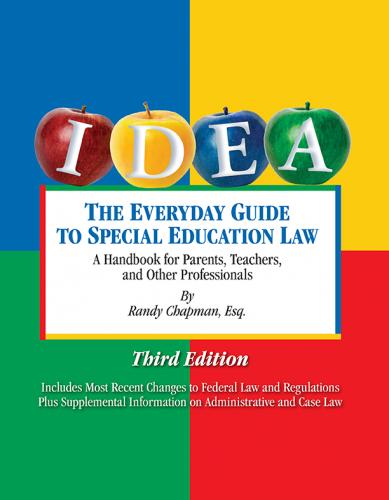 Description:
The Third Edition of The Everyday Guide to Special Education Law features more than seventy pages of additional information. This edition includes: 
Schools and service animals
Charter schools, private schools and private school voucher programs
LRE and preschool programs
Bullying
This edition also contains all of the second edition updates including:
Timelines for dispute resolution and due process hearings
Burden of proof in due process hearings
What constitutes a pattern of removal of a student in the disciplinary process triggering the need to conduct a manifestation determination
Services for children with disabilities placed by their parents in private schools
The Everyday Guide to Special Education Law is an essential tool to help parents get the best education possible for their child with disabilities. The Everyday Guide covers the IDEA's Part B (service for children aged 3 - 21), Part C (services for infants and toddlers), and Section 504.
A Spanish translation of this book, Guia de La Ley Educación Especial, is also available with English/Spanish on every page.
Review:
Excellent book to have on hand at schools for parents and teachers to use. I work with students with disabilities and I learned a ton from this book. I will often refer to it as time goes on. The tidbits for parents are so beneficial. For example, letting a parent know what happens when they move in-state or to another state. This book has great information for parents and is a wonderful tool as it is easily readable and clear. --Colorado Independent Publishers Association Judges comments
A lot of things that weren't being done now they re going back and doing them. He should have had a physical therapist to help with his motor skills I didn't know that and I just believed what they told me. Now, with the book, they know I m right, that it's the law, and not just me complaining. They can't blow me off any longer. --Sharon Edelen, Parent