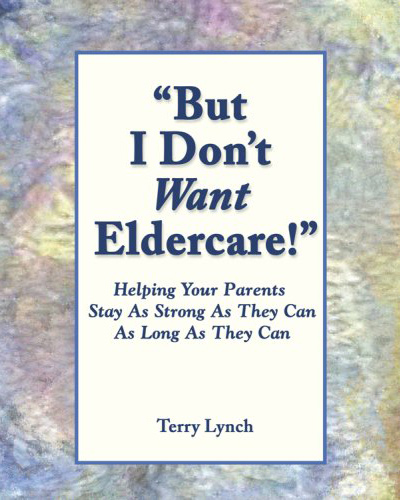 Date Published:
Wednesday, October 15, 2008
Description:
But I Don't Want Elder Care! is an important consumer empowerment resource. It is easy to understand, and it is inspiring. We have only to look at the current state of long-term care and the approaching wave of baby boomers to understand how important it is to change how we care for our parents and ourselves in the future.
People who are able to stay in their own homes are healthier and happier. Diverting older people from nursing homes after a hospitalization is truly an option, and this book gives life to that possibility. Nursing home care is the most expensive option for individuals or their families, and the publicly funded system often provides inferior care. By helping people remain as independent as possible and supporting them in home or home-like environments, we are able to see better outcomes and better quality of life.
You have more control over the future than you realize. Terry Lynch has been where you are. Even an hour with this book can improve your parents' lives and yours. This is the guide the author wishes he would have had before his medical crises of his mother changed each of their lives.
Are you worried about how much longer mom (or dad) can live at home?
Is your parent struggling with health or memory problems and you see no solution other than a nursing home?
Are you moving from one medical emergency to another?
Are you no longer in charge of your own life?
Terry Lynch draws on extraordinary personal experience in this eye-opening guide to the future, from his work with the White House Conference on individuals with disabilities to a decade as his mother s caregiver. While he assisted other families, Terry helped his mother remain at home in spite of significant medical problems and a life-changing memory disorder.
Review:
A wise and informative guide to decisions that generate a sense of optimism, control and better well-being. --U. S. Senator Chris Dodd (D-Connecticut), Chairman, Senate Sub-committee on Children and Families.
I am filled with renewed hope. Terry Lynch exposes destructive myths about what is inevitable as we age. Just the introduction will help me be a better daughter. --Pam Cord, Kindred Connection, Atlantic, Iowa.
Terry Lynch outlines strategies that enable us all to engage in productive and meaningful lives into old age. --Walter Bortz, M.D., Author: Dare to Be 100 , Past President, American Geriatrics Society.